From Skyrim Nexus Latest Files

---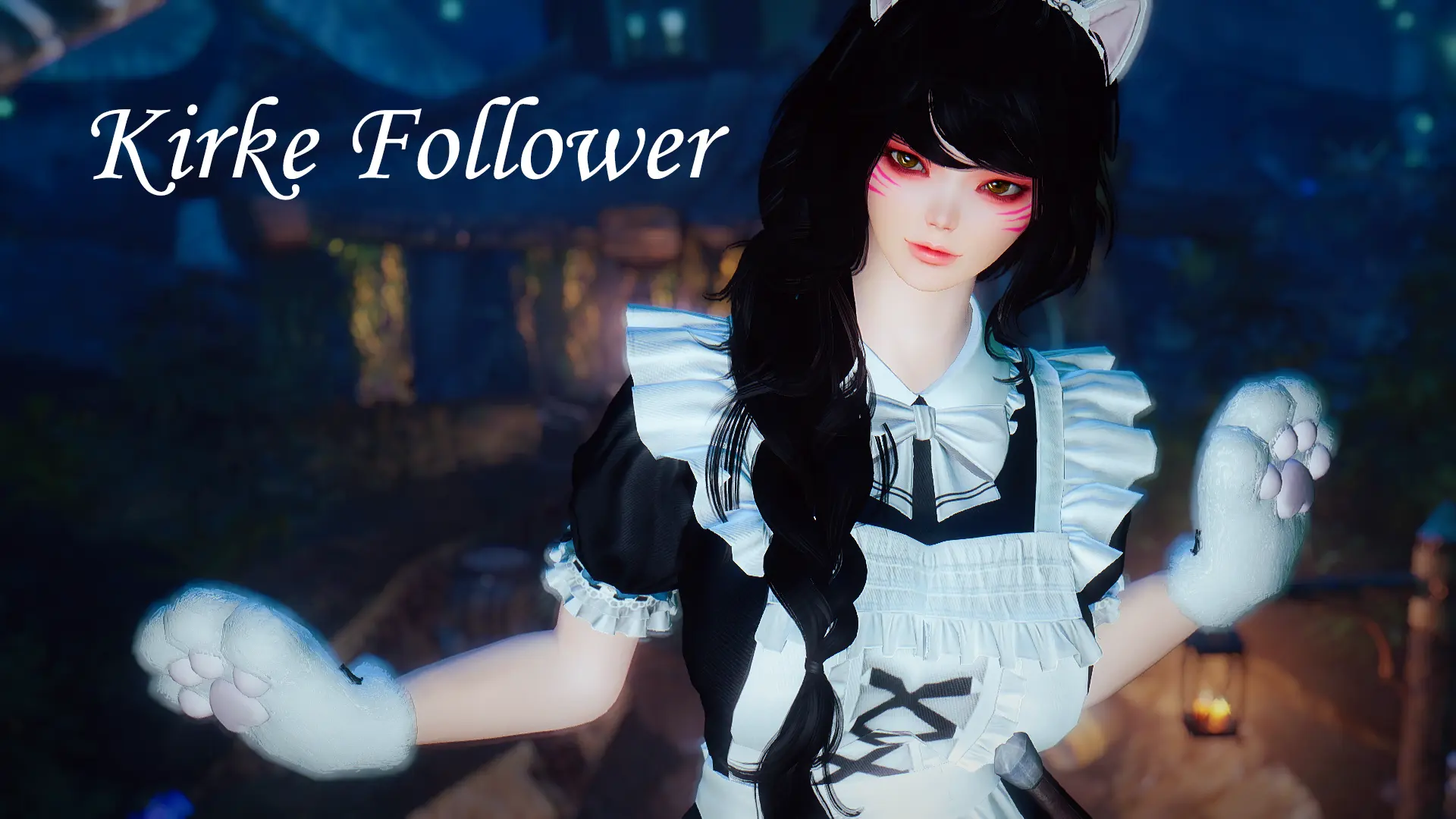 This mod add new stand alone follower Kirke in your Skyrim.

She has custom dialogue and story and body. this is 1.0 version.

If I can, in the future I'll put some custom voices, quests and more dialogues.
She tried to run away from her darkest past and managed to find your house. She decided to sneak in and reside in it.

So you can find her in your BreezeHome

She has been waiting for her drafted father to return from the army.

No wonder she has been through many adversities. Please take care of her.
This is my first and last mod before I join the air force couple of weeks later.

so Plz Take good care of her instead of me.


키르케는 독립동료이며 독자적인 대사와 간단한 스토리 그리고 의상과 몸 갖고있습니다.

추후 짬이좀 차서 여유와 기술이 생긴다면 대사도 대폭 늘리고 커스텀 보이스와 퀘스트도 추가를 할 예정입니다.

목소리가 아름다우신 분을 구해봐야겠어용
이 아이는 끔찍하고 어두운 기억을 피해 달아나 방황하던 중 드래곤본의 소식을 듣게되고 당신의 집에 숨어들게 되었습니다.

그러니 브리즈 홈에서 만날수 있습니다

그녀는 징병된 아버지를 기다리고있으며 힘든 시간을 보내왔습니다. 부디 잘 돌봐주세요
아마 이 모드는 제가 군대가기전 올리는 마지막 모드가 될것같군요.
많은 분들의 공유정신과 커뮤니티덕분에 재밋게 잘 즐기다 가는것같아서 너무 감사드립니다.

저도 정말 미리 공유를 하고 배포를 했으면 어땠을까 하는 후회가 남네요
대한민국의 하늘을 지키러 다녀 오겠습니다. 그때까지 딸을 저 대신 잘 부탁드립니당 😀
*도움 주신분들

모드를 만들어주시고 큰 도움을 주신분들 정말 너무 감사드리고 애정합니다ㅠㅠ

덕분에 가기전 만들고싶엇던거 하나라두 남기게 되었네요..

아주매우 큰 도움을 주신 고마운 분들- Honey popcorn , BakaFactory , Face[/url]Sensei[/url] , Moolgogi , Roundelroot
그리고 목선 테스트와 기타 여러가지 피드백을 해주신 떼껄룩 칭구들도 모두 진짜 고맙습니다 증말루ㅜㅠ
ps. 데리고 다니시면서 간간히 후기나 스크린샷등을 공유해주셨으면 하는 작은 바람이 있습니다.

가는놈 선물이라구 찍어주신다면 정말 행복할것같네유
Her kumiho ear used in screenshot - [nini dalgaebi]

스샷에 있는 고양이 귀는 니니님의 dalgaebi 의상입니다. 🙂
Special Thanks

Thanks from my heart to people who helped to me create this mod

– Honey popcorn, BakaFactory , Face[/url] sensei , Moolgogi , Roundelroot

and every great Take a look friend who tested this mod 🙂
Credits
MiniDresses Collection for UUNP Bodyslide

Enhanced Character Edit by ECE team

ECEE – RANs Enhanced Character Edit Enhancer by RAN46

Enhanced Character Edit – More Body Sliders by Septfox

Fair Skin Complexion[/url]

[/size]The Eyes Of Beauty

UNP BLESSED BODY- UNPB REDUX PROJECT
---
Original URL:
https://www.nexusmods.com/skyrim/mods/97495