From Skyrim Nexus Latest Files

---
Place Prehistoric Animals* wherever you want through Skyrim … (The DLC Dragonborn is required)
This mod contains many creatures, some new, others that come from my following mods: Repopulate Skyrim with Prehistoric Animals ; Prehistoric Wildlife Mounts and Followers ; Repopulate Skyrim with Creatures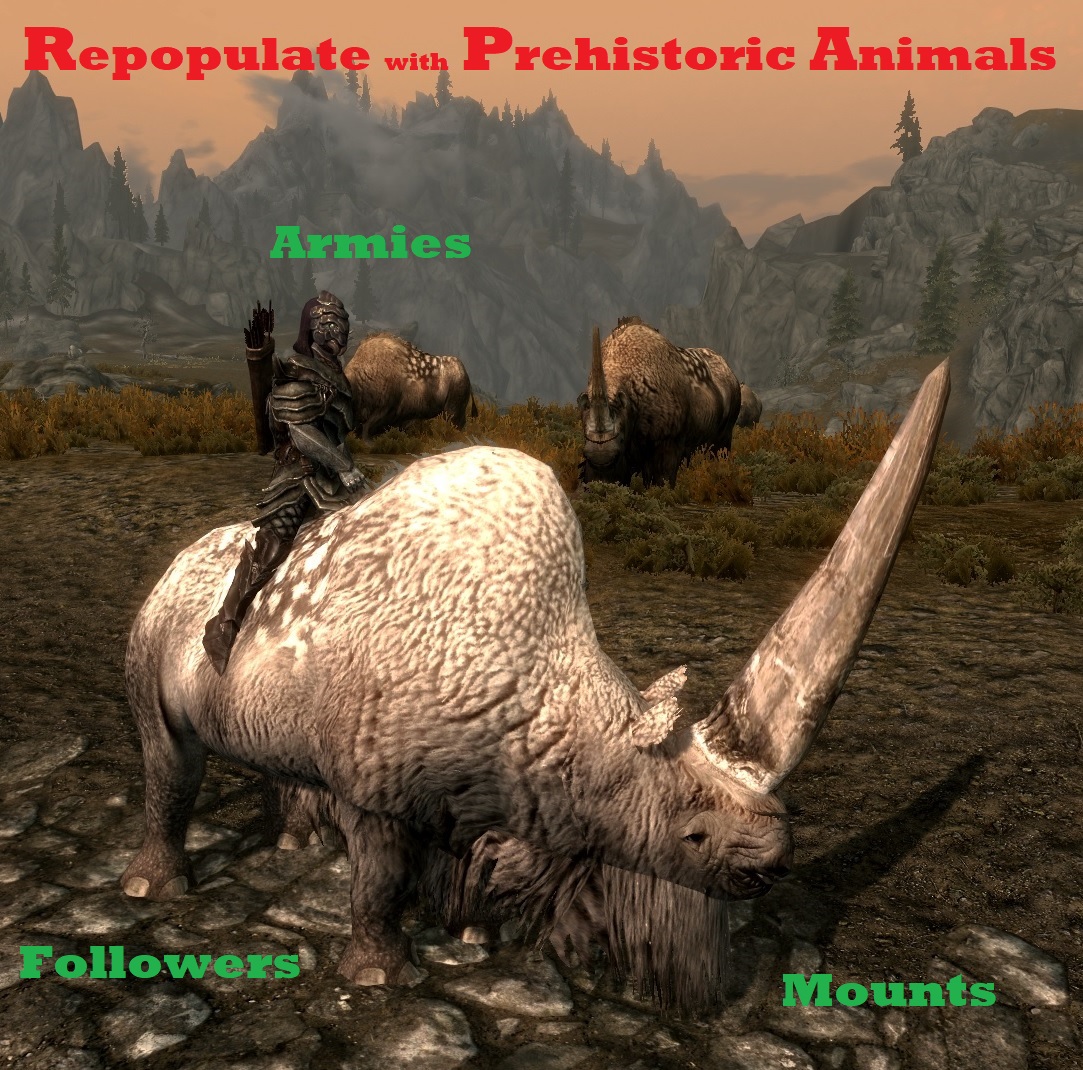 HORDES of Prehistoric Animals

This mod adds the ability to quickly create hordes of prehistoric animals* (5, 15, 50, 100 …MORE ?…ATTENTION with the freezes in your computer !)

To obtain these prehistoric animals*, simply buy scrolls found with some Merchants in Whiterun: Arcadia of Arcadia's Cauldron, Anoriath, Hulda of the Bannered Mare Now open up your inventory, navigate to "Scrolls" and there they are. You throw them and when they hit the ground they hatch into prehistoric animals .

In order to find the scrolls (or the books) at Merchants, you must choose the mod for which you want to buy and place it at the bottom of the list when you launch the game.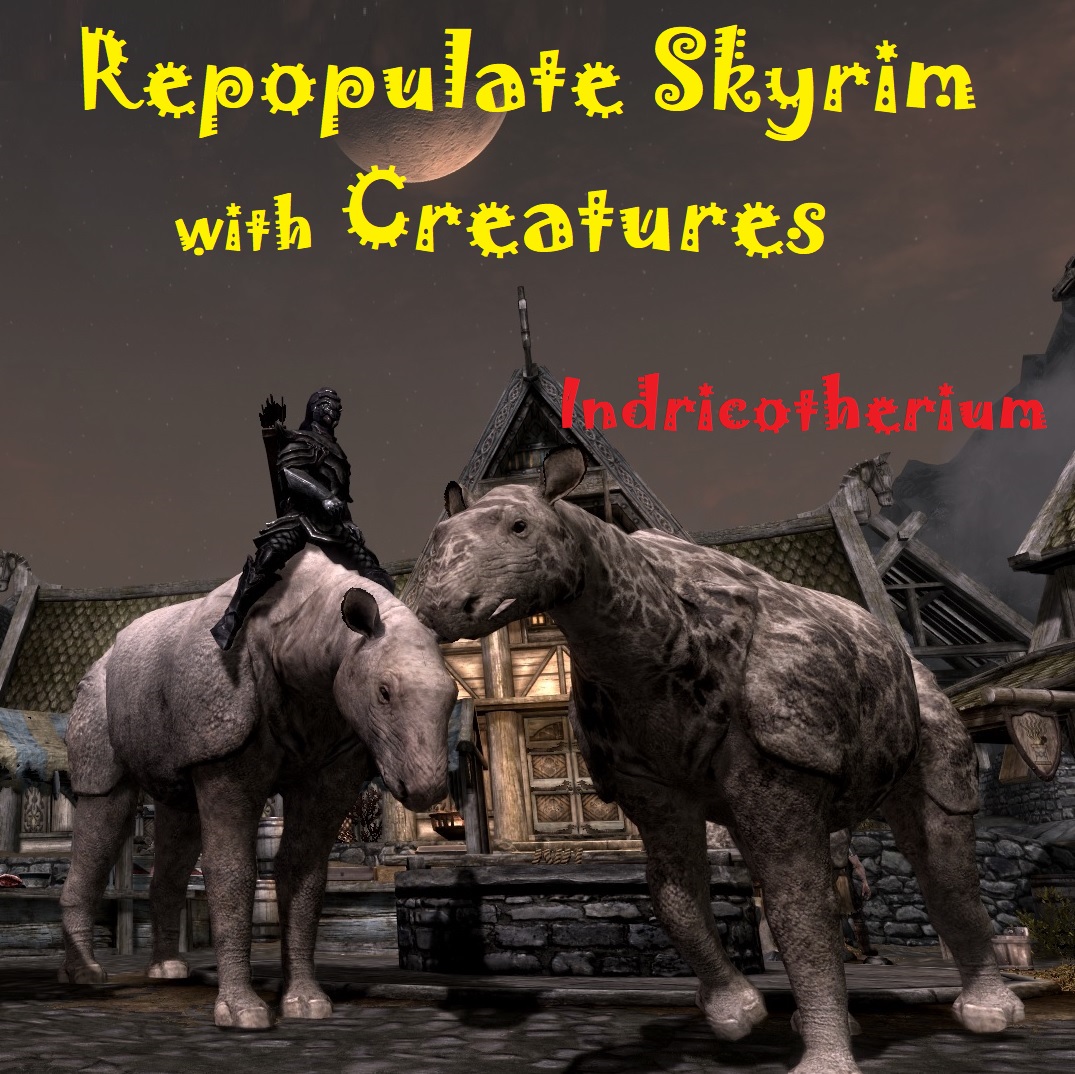 SUMMONABLE MOUNTS/FOLLOWERS To have the SUMMONABLE Mounts or Followers, you must buy the "Spell tome: Summon XXXX", at Farengar Secret-Fire in Dragonsreach/Fort Dragon (Whiterun) or with an other "Spell Vendor" (ex: Sybille Stentor in the Blue Palace/Palais bleu in Solitude).

With the books, you have the spells (Duration of the summon: 1 hour) …

You can easily DISMISS when you want ! with an other "Spell tome:Dismiss Creatures"

If problem with the mount you can try a fast travel

And if you want to be accompanied by a companion, it is possible with the mod Horse Branding by fLokii (Easily mark any mount for followers to ride)

If you want to be accompanied by SEVERAL companions, it is possible with the mod Horse Branding by fLokii AND the mod Amazing Follower Tweaks by Dheuster

*List of animals:

1) Smilodon (Mount) (Scrolls)

2) Elasmotherium (Mount) (Scrolls) (Book/Spell)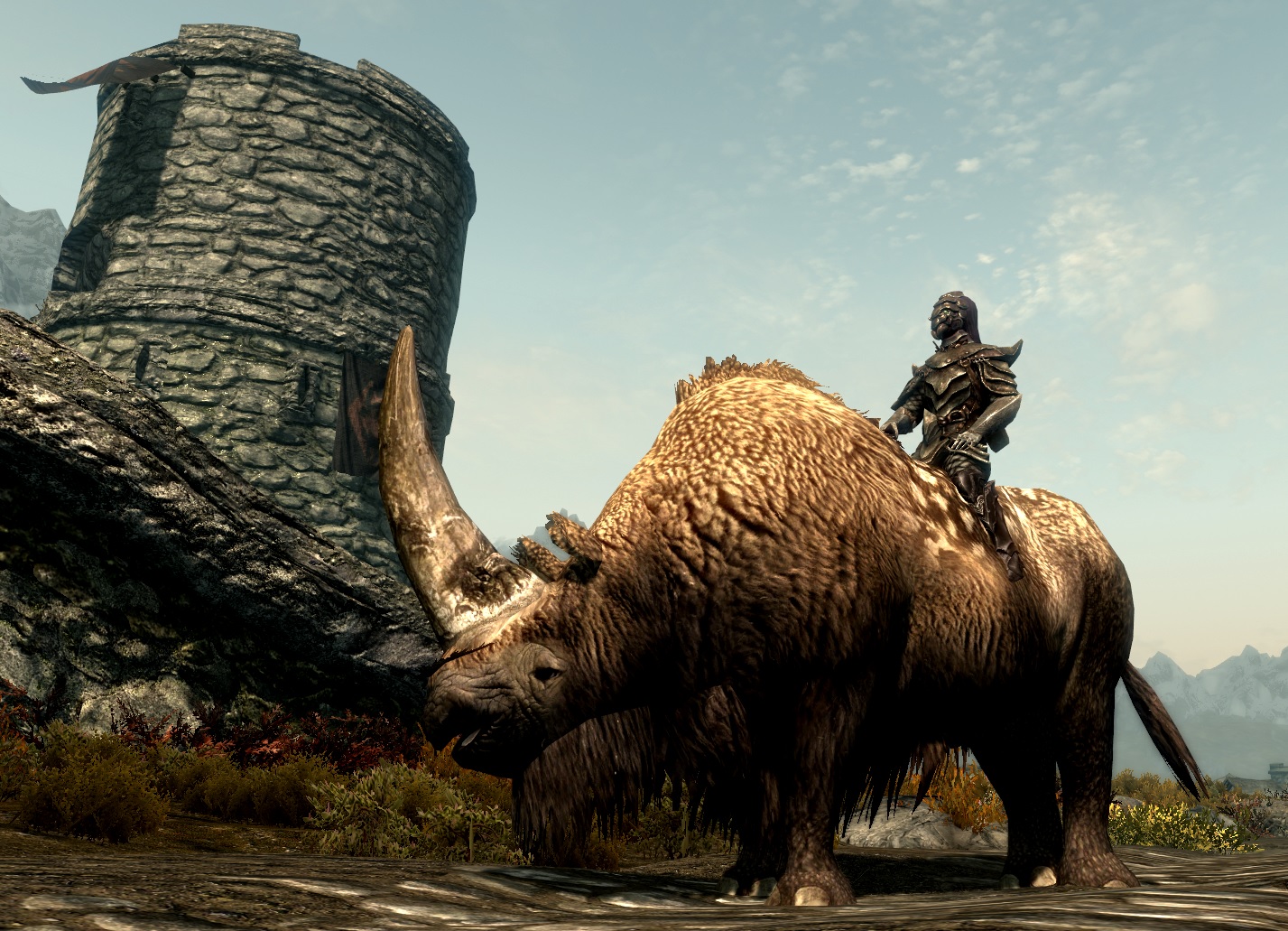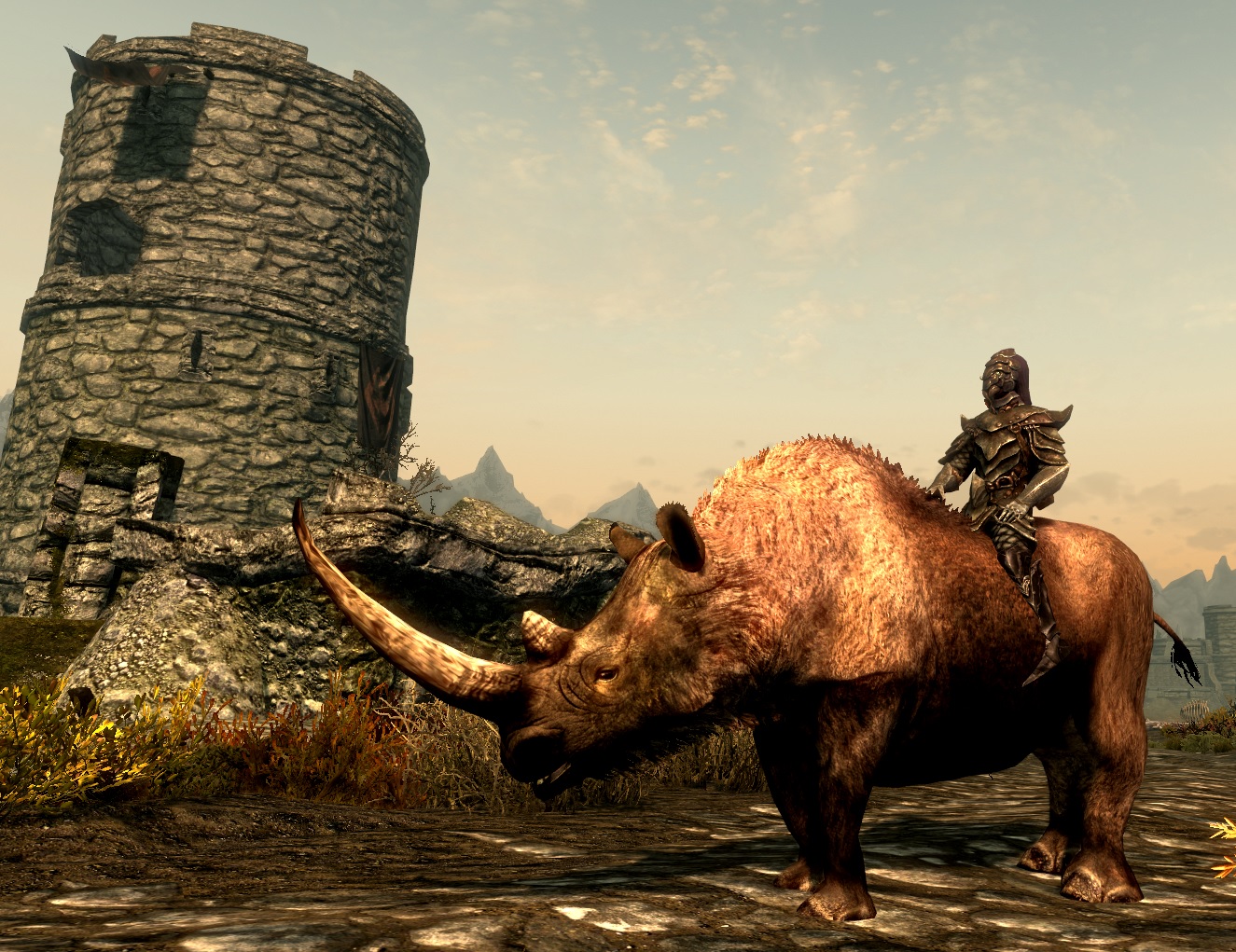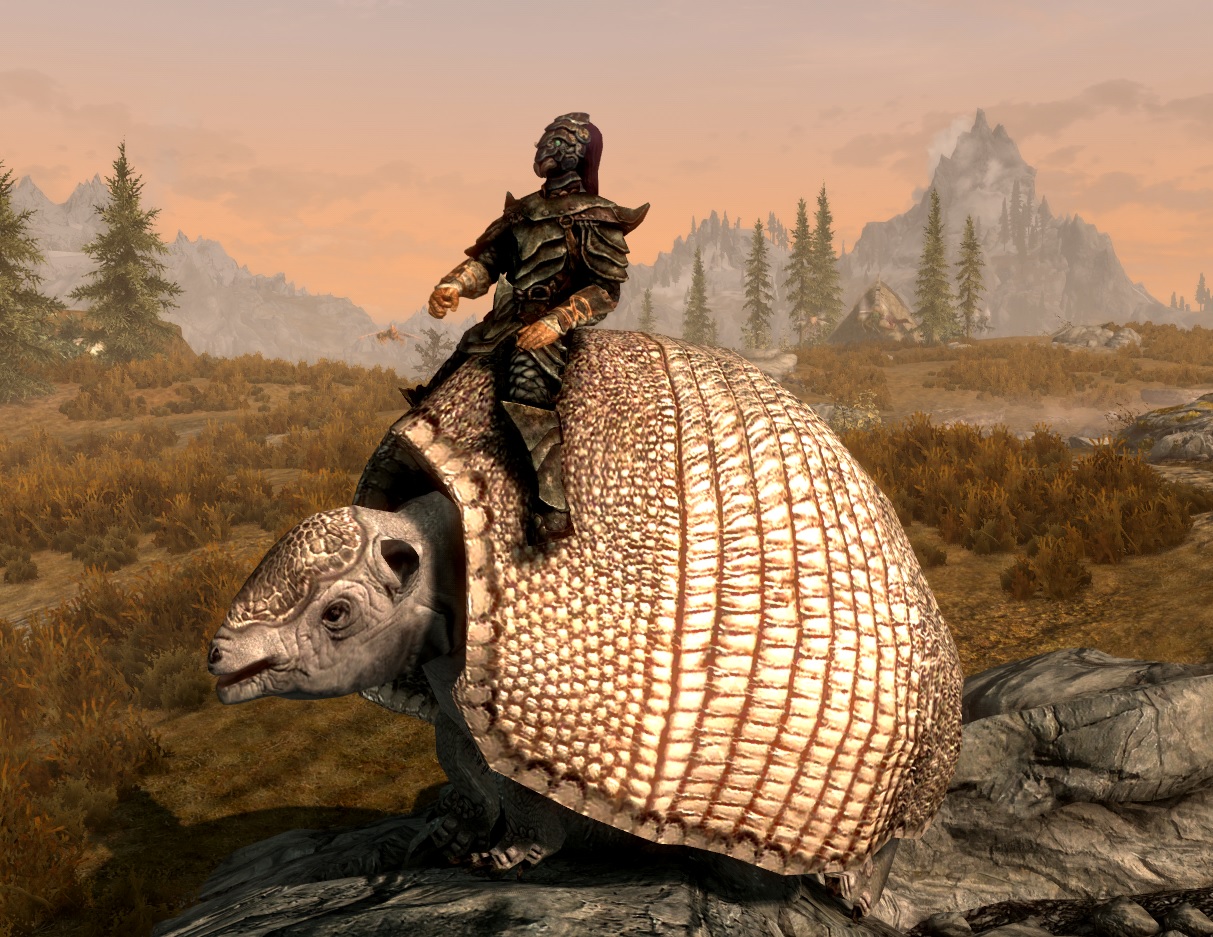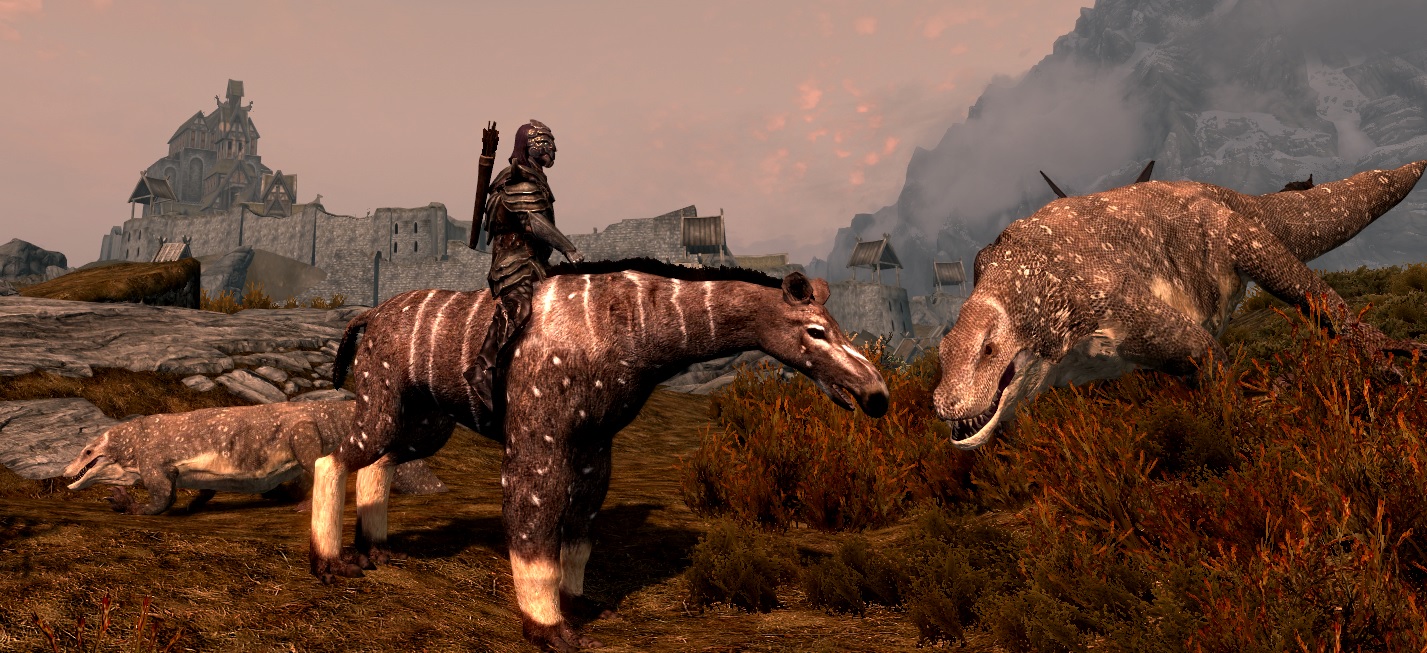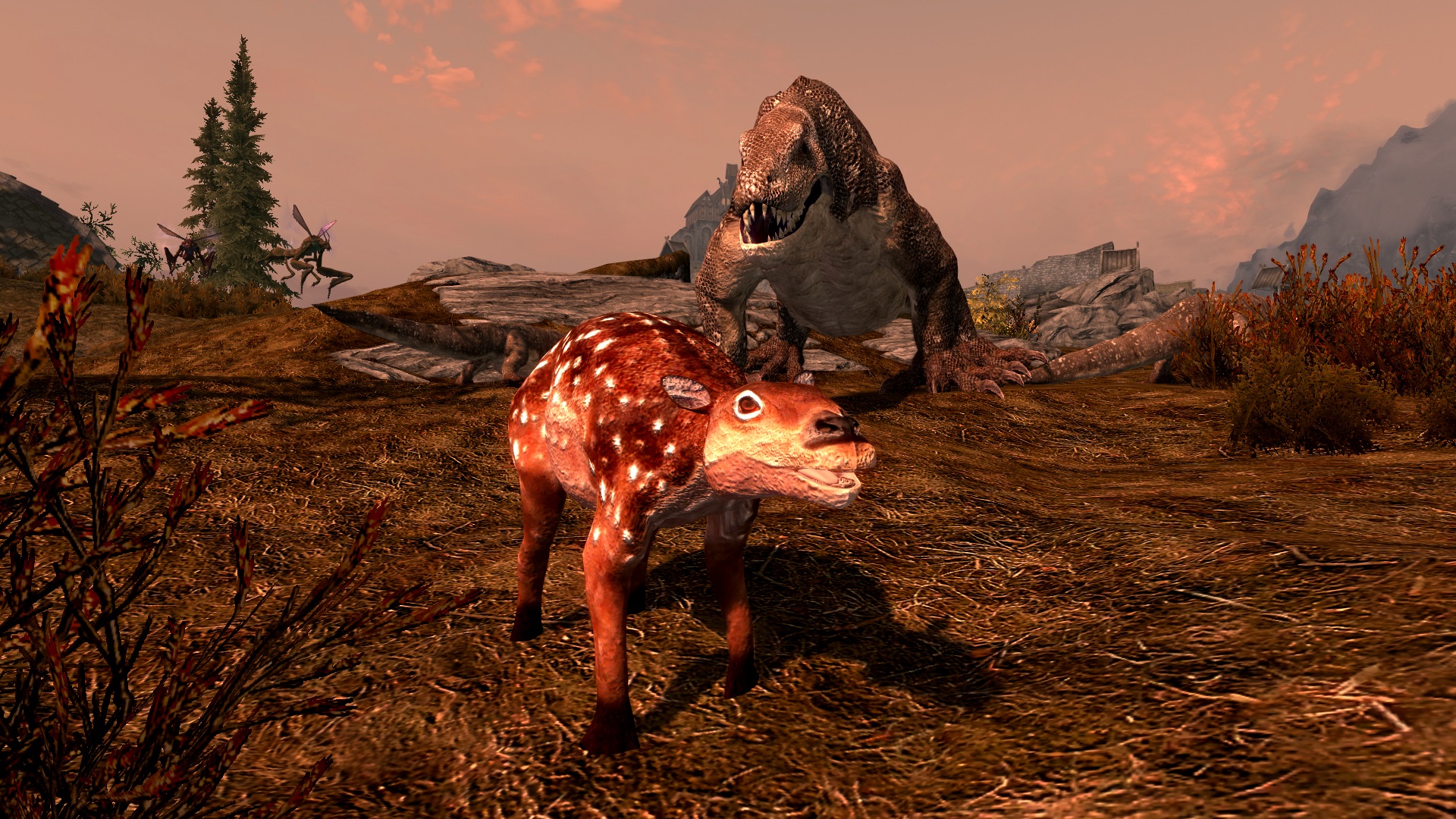 COMPANIONS MEGALANIAS (2)

Near the mount not very far of

the Western Watchtower (Whiterun)

You can talk: Wait – Follow – Trade – Favor – Dismiss, with these lizards !

You can only have one follower at a time: if you want a different one, you need to dismiss the first one before you recruit them.

If you have any problem with the dialog box, or if telling the follower to return at home doesn't dismiss him, or if you have lost the active follower, you can try this:

Type "²" or "`" or "~" key to get into console, and type:

set playeranimalcount to 0

With Amazing Follower Tweaks , or other mod with followers, if problem to dismiss the followers, you can uncheck this mod (AFT or other) when you launch the game

If problem with the Dialog Box of the followers/ companions (Wait – Follow – Trade – Favor – Dismiss) you can also enter / exit a house or make a fast travel
INCUBATED EGGS (Army of Megalanias)

This mod adds the ability to quickly incubate eggs of Megalanias with the fire of the forge, and quickly create an army of Megalanias (5, 15, 50, 100 …MORE ?…ATTENTION with the freezes in your computer !) that are following you as if you were their mother !

To obtain these Megalanias eggs, simply bring any " Megalania Egg " (found with some Merchants in Whiterun: Arcadia of Arcadia's Cauldron, Anoriath, Hulda of the Bannered Mare ) to a forge and create the "Incubated Megalania Egg" in the "misc" section. Now open up your inventory, navigate to "Scrolls" and there they are. You throw them and when they hit the ground they hatch into Megalania. The Megalania follow you.

When your creatures die, remember to loot their corpses for more eggs

In order to find the eggs at Merchants, you must choose the mod for which you want to buy and place it at the bottom of the list when you launch the game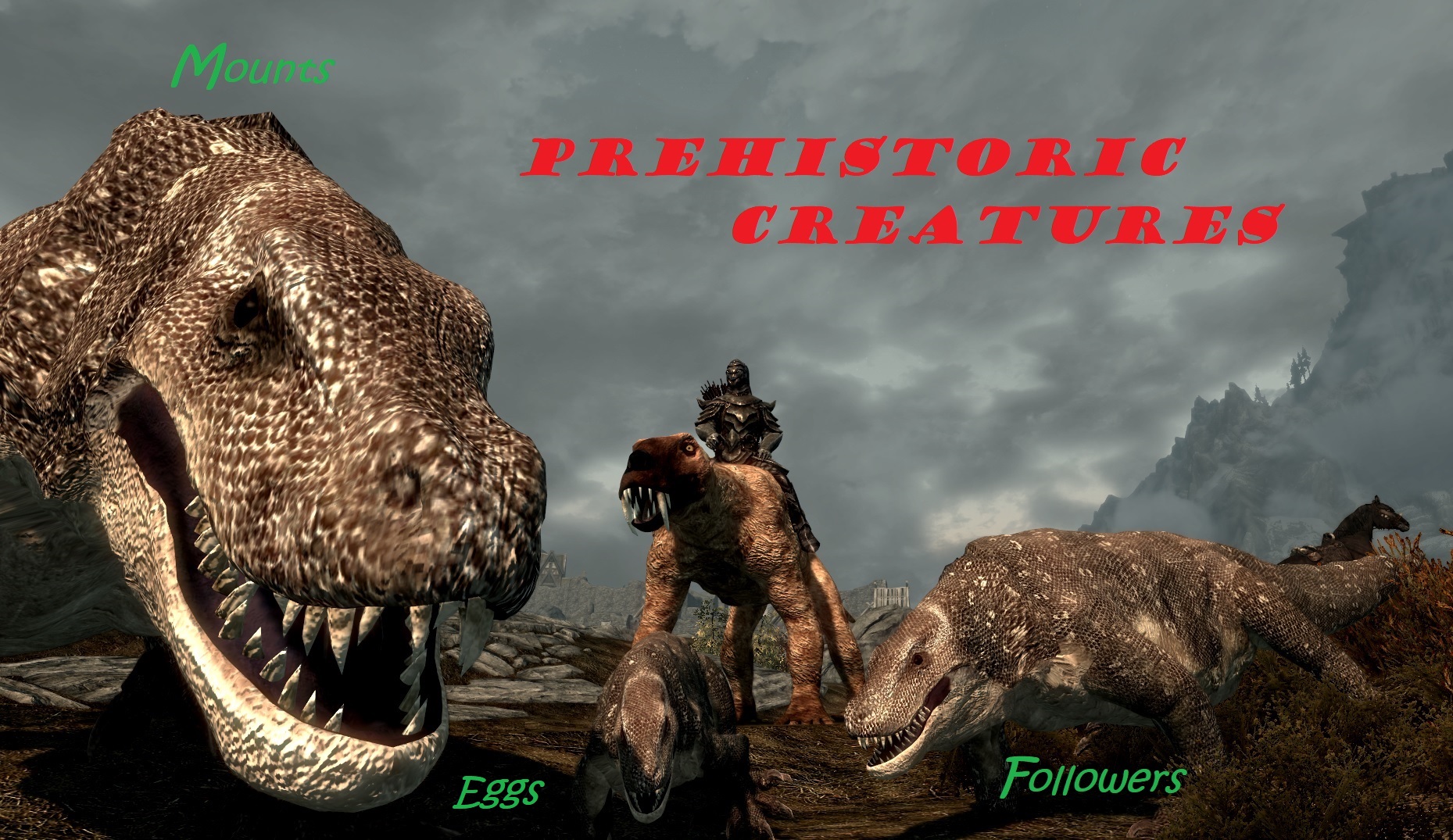 Woolly Rhinos- Mihail Monsters and Animals (mihail immersive add-ons- megafauna) [/url], for the Smilodon in Lynxes Cheetahs and Smilodon- Mihail Monsters and Animals (mihail immersive add-ons – megafauna) , for the Megalania in Megalania- Mihail Monsters and Animals (mihail immersive add-ons – lizard- megafauna reptile) ; for the Gorgonops in Gorgonops – Mihail Monsters and Animals (mihail immersive add-ons -megafauna) ; for the Glyptodon in Giant Sloths and Glyptodons [/url]; for the Dicynodons, the Ornithopod, the Psittacosaur in Beaked Sauroids- Mihail Monsters and Animals (mihail immerside add-ons- dinosaur- megafauna) , for the Indricotheriums and for the Giraffids in Indricotherium and Giraffids- Mihail Monsters and Animals (mihail immersive add-ons- megafauna- hammerfell)

RoboBirdie in New Creatures

Free sounds : universal-soundbank[/url] – Sound Fishing – lasonotheque [/url] – soundbible [/url] – freesfx – xeno-canto[/url] – The Internet IBC Bird Collection
---

Original URL: https://www.nexusmods.com/skyrim/mods/92962