From Skyrim Nexus Latest Files

---
Welcome in an old hunting lodge on an island in the middle of the forest, who adds many animals in the world of Skyrim: Wild animals, Companions/Followers, Mounts, Hordes/Armies ! (The DLC Dawnguard is required).
The Lake House is located near Ivarstead (in an island on the lake Geir with the Geirmund's Hall).
Enter the Lake House where you will find a chest containing many books/spells and scrolls …
This mod is a merging (and a significant improvement) of my mods (With also new creatures: New Dogs):
Forest Mounts and Followers
Moose Mounts and Followers
Squirrels Companions and Wild
WARNING: If you install The Lake House of the Forest Mounts and Followers, you must uninstall these mods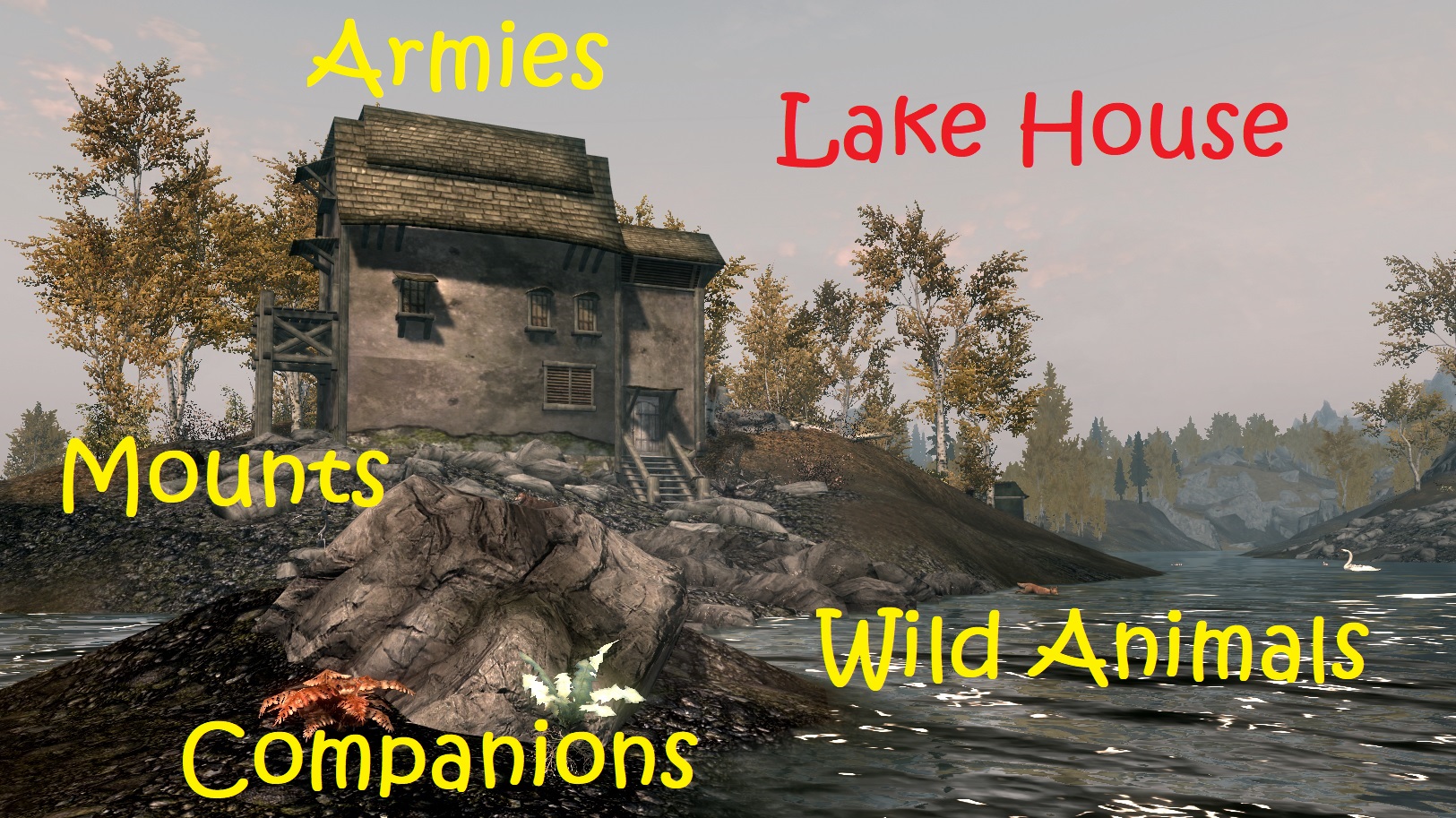 WILD ANIMALS

Wild Animals near Ivarstead: Beaver (7), Raccoon (7), Little Fox (8), Lynx (7), Cougar (5), Fawn (3), Female Deer (2), Male Deer (2)

122 Squirrels (« Grey Squirrels » ; « Red Squirrels » ; « Squirrels ») in the following locations :

Pelagia Farm – Snow Shod Farm – Merryfair Farm – Hearthwood Mill – Riften Stables – Mixwater Mill – Brandy Mug Farm – Hlallu Farm – Hoollyfrost Farm – Anga's Mill – Katla's Farm – Solitude Sawmill – Salvius Farm – Markath Stables – Half Moon Mill – Sarethi Farm – Loreius Farm – Froki's Shack – Alchemist's Shack – Pinewatch – Hunter's Rest – Cliffside retreat – Meeko's Shack – Abandoned Shack – Hall of the Vigilant – Drelas'Cottage – Anise's Cabin – Lake House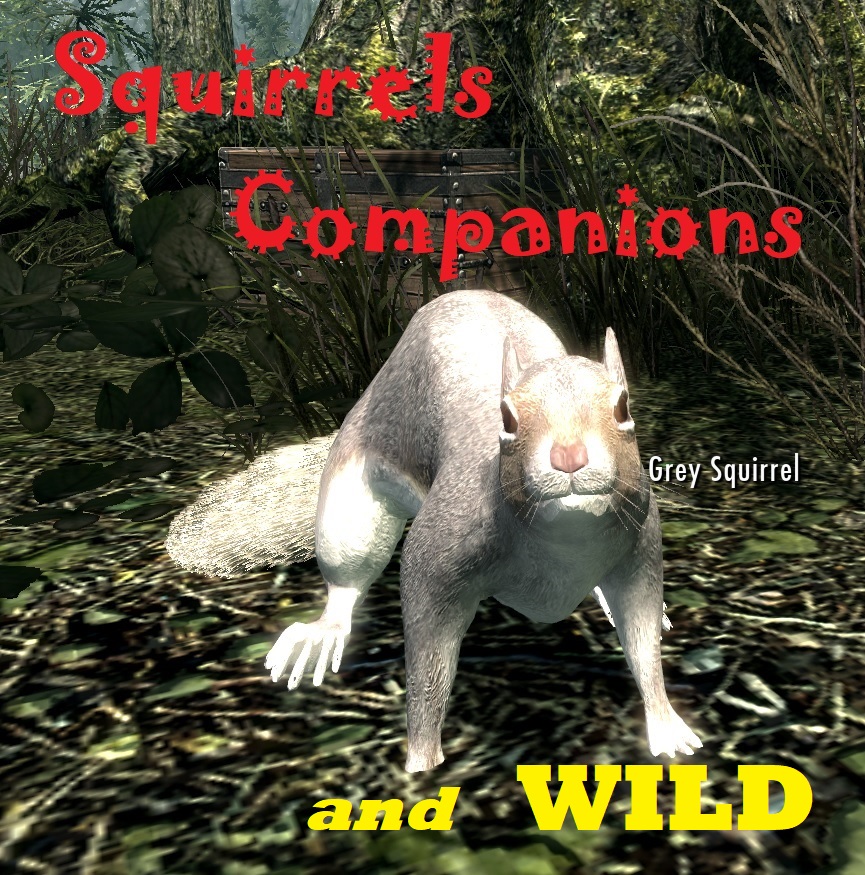 HORDES/ARMIES
This mod adds the ability to quickly create hordes of animals (dogs, squirrels) with the scrolls found in the chest (5, 15, 50, 100 …MORE ?…ATTENTION with the freezes in your computer !).
SUMMONABLE MOUNTS or FOLLOWERS
With the Books/spells that you can found in the Chest:
Armored Gazelle, Gazelle, Vale Deer, Male Elk, Female Elk, Moose (4), White Stag, Spectral Stag, Foxes (2), Wolves (3), Vale Sabrecat, Skeevers (2), Beaver, Raccoon, Cave Lion, Eurasian Lynx, Canadian Lynx, Cougar, Dogs (2), Squirrels (6)
You can easily DISMISS when you want with a "Spell tome:Dismiss Summoned Forest Mounts"
COMPANIONS
14 Followers/Companions in or near the Lake House (Silver Fox, Little Fox, Arctic Grey Fox, Timber Wolf, Male Deer, Female Deer, Fawn, Male Reindeer, Megaloceros, Beaver, Raccoon, Eurasian Lynx, Canadian Lynx, Cougar)
4 Squirrels Companions (Anise's Cabin – Lake House)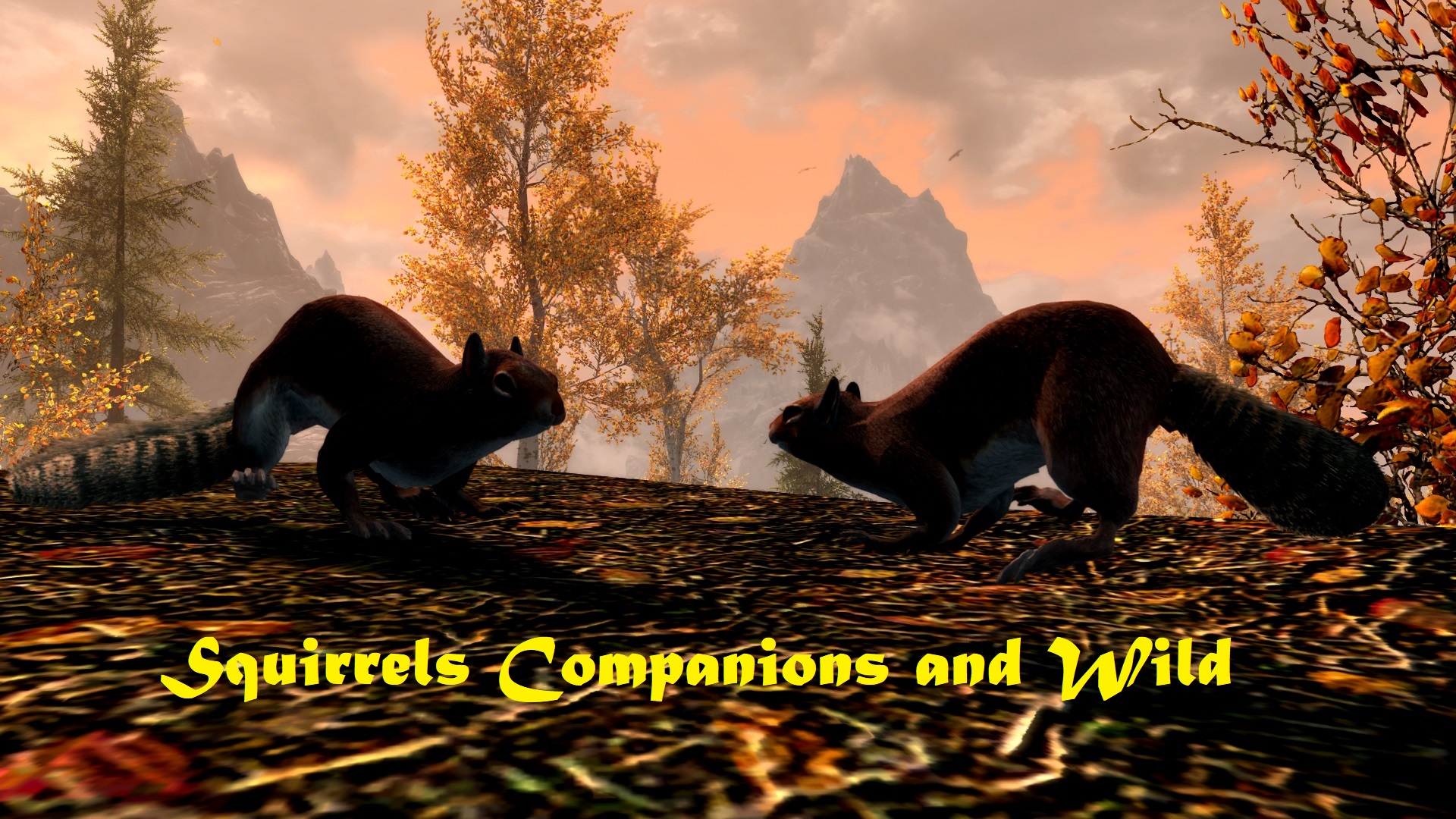 BUGS or PROBLEMS

If the Moose disappeared when you are riding on it (with impossibility to dismount!) …

3 solutions to make the creature reappear:

1) Unzoom using the mouse wheel of the mouse

2) Fast travel

3) Enter / leave a house (but you have to be descended from the beast though !!!)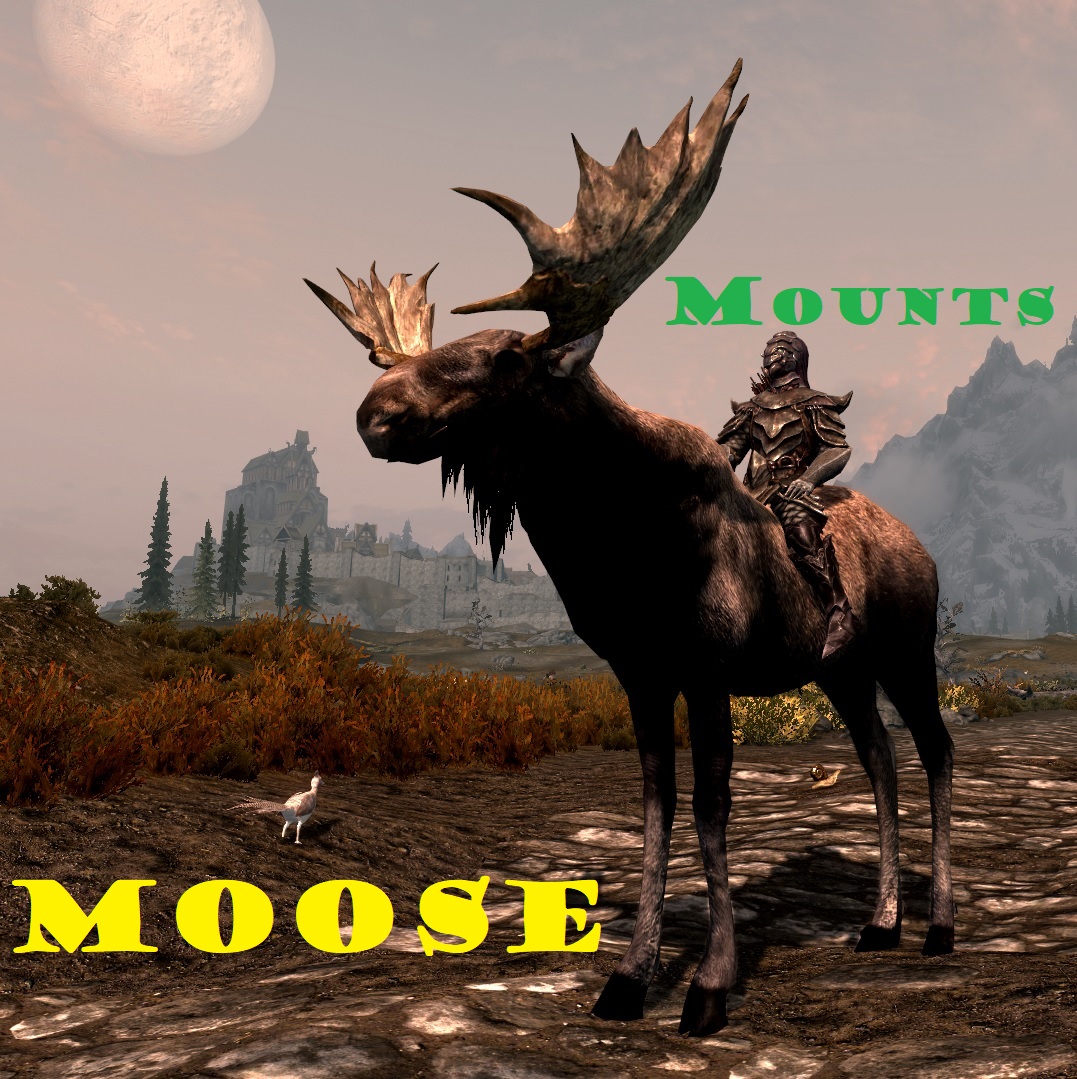 CREDITS
RoboBirdie/Berkian for the Lake House in Architecture [/url] ; for the decorations in Interior Decorations ; for the Bones in Bones ; and for the Trophies in New Creatures
Tasheni for the Dogs in Tasheni's Winterdogs
Mihail for some Squirrels in Squirrels- Mihail Monsters and Animals (mihail immersive add-ons- rodents – ESO) (fixed version by edherpington) and for a Moose in Moose -Elements of Skyrim pt.9 (mihail immersive add-ons- megafauna- animals)
elafrosicky for the texture of one « Squirrell »in Squirrel Retexture Brown
CRO White Wolf for his mod CRO White Wolf and Astarcis Wolf Textures With the Texture of the Desert (little)Fox
Bellyache for his mod Bellyaches Animal and Creature Pack With the Textures of the Timber Wolf and Red/Silver/Arctic/ArcticGrey Foxes
AlienSlof for his mod
Testiger2 and XP32 for the mod: Sabrecat Idle Animation Fix ("Permission : Free according to original tweaker/modder -testiger2-")
Tumbajamba for the Meshes and the textures of the Gazelle and the Armored Gazelle in his mod Armored SabreCat Mount
gothic2392/ 530gothic25 for the meshes/textures of Beaver, Bull Moose, Female Elk, Raccoon, Male Deer, Female Deer, Fawn, Megaloceros, Cave Lion (sabrecat texture used on Cave Lion: Bellyache), Eurasian Lynx, Canadian Lynx, Cougar, in his mod Skyrim Wildlife Overhaul
Free sounds : universal-soundbank[/url] – Sound Fishing – lasonotheque [/url] – soundbible [/url] – freesfx – xeno-canto[/url]
---

Original URL:
https://www.nexusmods.com/skyrim/mods/98065